Are you planning a wedding this fall and want your ceremony to be memorable and crafted just for you? Here are six customizable wedding trends you shouldn't miss out on!
Music
Everyone loves a good dance. Wedding bands can make or break a good ceremony, and 2019 has seen a trend of more alternative genres played up on the stage. You can book a wedding band in almost any genre and send in special requests for tailor-made performances or features, such as a DJ who takes requests, or a cover of a special song for you and your other half. Dare to be different and ditch the usual covers for something more personal.
Outdoor Ceremonies/Receptions
Spring and summer are considered the best times for outside weddings, but fall gives us crisp air and bright colours that are beautiful for backdrops. If you're a Halloween lover, October weddings benefit from an added dash of spook, with cute Halloween figures and trick or treat candy bars or favours adding whimsy to your day. Consider a gazebo, a marquee, or a refurbished barn for a rustic and natural location to celebrate outdoors.
Wedding Favors
Often forgotten in the hubbub of the big day, wedding favors are being dropped out of plans this year in attempts to save money and reduce waste. Donations to charities on behalf of guests are a common replacement, in a system where money spent on favours can be redirected to charities of guest or host choices. What better feeling is there than knowing you've done some good deeds for the day? Share the happiness of your big day by putting your money to good use and helping improve the world.
Eco-Friendly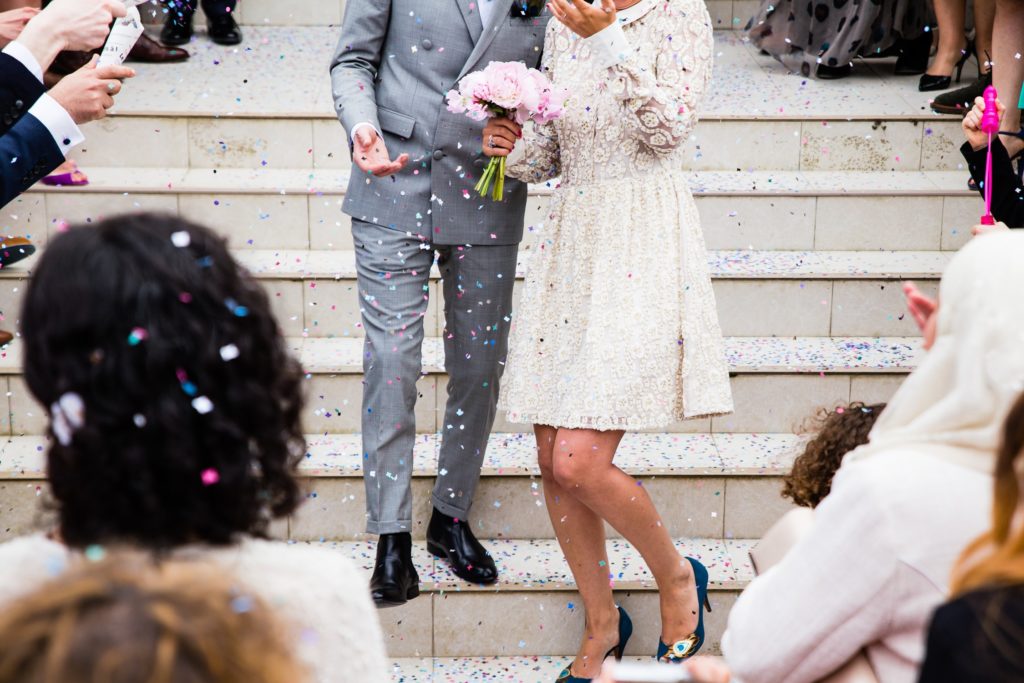 With the rise of eco-concerns, many ceremonies find themselves ditching single-use plastics and replacing the usual confetti with biodegradable confetti bags to give to guests in order to cut down on waste and environmental impact. This is a particularly good fit with outdoor ceremonies, in keeping with a natural vibe. Consider ways to reduce your waste without reducing your fun, for a lighter conscience and eco-friendly celebration.
Menus
Step out beyond the usual meat, fish and veggie pasta menu to experiment with flavours and provide a meal better suited to you and your guests. Caterers are expanding their horizons and including better gluten or dairy-free, vegetarian and vegan meals to provide for any dietary requirements without sacrificing taste or style. Build your menu around you, and create a meal guaranteed to satisfy.
Personalization
You may have noticed that personalisation is a big trend this year. When you hear 'wedding', most people think of churches, organ music, a sit-down dinner and a good old dance to round the day up. This is the traditional routine, but if that doesn't suit you, feel free to explore what makes you and your partner unique and create a celebration that reflects your love for a special celebration that your guests will remember.